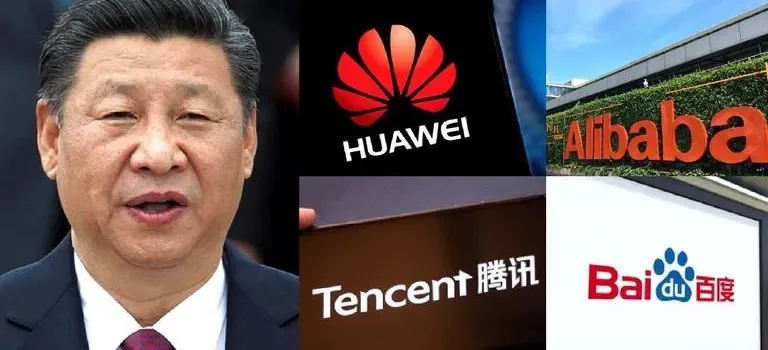 Chinese government agencies intend to buy so-called "golden shares" in units of Alibaba Group Holding Ltd. and Tencent Holdings Ltd., suggesting that Beijing is seeking to ensure greater control over key players in the world's largest Internet arena.
The debate comes as Beijing prepares to loosen its grip on the sector and overcome the harsh crackdown that has engulfed almost all Internet spheres for more than a year. This share structure, which in theory allows the government to appoint directors or influence important company decisions, could provide officials with a tool to influence the industry in the long run.
According to Qichacha's corporate database, a division of China's Cyberspace Administration bought 1 percent of Alibaba's digital media subsidiary in Guangzhou on Jan. 4. The company's media portfolio includes businesses such as streaming platform Youku and mobile browser UC Web. According to documents, a new director was appointed on the same day, who goes by the name of a CAC official, as confirmed by a Financial Times report.
The database showed that the fund, which bought Alibaba , is backed by CAC along with prominent state firms such as CITIC, China Post and China Mobile Ltd. Negotiations are also underway for a state-owned institution to acquire a similar stake in a Tencent subsidiary in mainland China, said a person familiar with the matter. This was previously reported by the Financial Times.
There are growing signs that the Xi Jinping administration, seeking to revive the world's No. 2 economy, is reversing course on campaigns against gaming addiction and preparing to release companies such as Alibaba that have attracted government attention. Didi Global Inc., one of the most notorious victims of the ban, could be allowed to relaunch its apps as early as next week, Reuters reported Friday, completing a return to mobile stores as expected.
What Bloomberg Intelligence Says
The increased influence of the Chinese state on Alibaba and Tencent, with the Financial Times reporting bodies getting a 1 percent direct stake in each, could draw attention to the companies outside China and slow their expansion. Beijing already has a golden stake in Tiktok parents Bytedance and Kuaishou.
The sharp turnaround of Covid's strict restrictions in early December was quickly followed by other market-friendly changes. China is lifting a two-year ban on Australian coal imports, easing measures for tech giants, and lifting the strict "three red lines" that had exacerbated the real estate crisis.
The question now is whether the policy revision represents a shift toward the flexibility that has contributed to China's economic rise over the past four decades, or whether it is simply a reflexive reaction to the deteriorating state of the economy.
Tencent and Alibaba were virtually unchanged in Hong Kong, recouping earlier losses. A Tencent spokesman declined to comment, and an Alibaba spokesman did not respond to a request for comment.
"To me, the news is somewhat positive," said Bunny Lam, head of research at Ceb International Inv Corp Ltd. – The two have struggled with repression issues in recent years. For both Alibaba and Tencent, a government stake could potentially help them get the green light to do business in new areas and reduce the risks of further regulatory repression."
Chinese government agencies have for years invested billions of dollars in startups by large private firms, from Didi to Jack Ma's Ant Group Co. The 1 percent is a so-called golden share.
While it is unclear how Beijing will ever take advantage of this holding, analysts suggest that in addition to gaining a seat or voice at the negotiating table, it could also help the government gain access to important data. TikTok owner ByteDance Ltd. and Weibo Corp. are among the major Internet companies that have disclosed these kinds of arrangements.